Start your investment with $ 10 and Learn to trade 💹 stocks 📈 online 💻 
Once you determine which business cycle the economy is currently in you can start researching for a trade. It is best to have some sort of a system in place that will be used before EACH trade. Here is a simple 5 Step formula to help get you started.
5 Steps to Investing Online:💹
This is the most obvious and most difficult step in stock trading. With well over 10,000 stocks to trade a good rule of thumb to consider is time of the year.  For example, as I write this, it is the beginning of spring. It would make sense to consider stocks that traditionally make runs, or slide if you are bearish, during this time of year.
 Many short term traders may disagree with the need to do ANY Fundamental Analysis, however knowing the chart patterns from the past and the news regarding the stock is relevant. An example would be earnings season.  If you are planning
on playing a stock to the upside that has missed its earnings target the last 3 quarters, caution could be in order.
 This is the part where indicators come in. Stochastics, the MACD, volume, moving averages, RSI, CCI, support levels, resistance levels and all the rest. The batch of indicators you choose, whether lagging or leading, may depend on where you get your education.
Keep it simple when first starting out, using too many indicators in the beginning is a ticket to the land of big losses.  Get very comfortable using one or two indicators first.  Learn their intricacies and you'll be sure to make better trades.
Once you have placed a few stock trades you should be managing them properly. If the trade is meant to be a short term trade watch it closely for your exit signal.  If it's a swing trade, watch for the indicators that tell you the trend is shifting.  If it's a long term trade remember to set weekly or monthly checkups on the stock. 
Use this time to keep abreast of the news, determine your price targets, set stop losses, and keep an eye on other stocks that you may want to own as well.
As the saying goes, all ships rise and fall with the tide. Knowing which sectors are heating up stacks the chips in your favor.
For example, if you are long (expecting price to go up) on an oil stock and most of the oil sector is rising then more likely than not you are on the right side of the trade.  Several trading platforms will give you access to sector-wide information so that you can get the education you need.
Here are the best locations to invest in a small amount but the investment will be long-term and not always in the short term.
1. Robinhood
Take your seat at the table.
Investing is a few taps away. Invest in stocks, funds, and options with Robinhood Financial. Buy and sell cryptocurrencies like Bitcoin (BTC), Ethereum (ETH), and Dogecoin (DOGE) with Robinhood Crypto.

No commission fees, no minimums, no velvet ropes.
Other fees, Gold fees, or third party fees may apply to your brokerage account. You can check out Robinhood Financial's fee schedule at https://rbnhd.co/fees to learn more.

Stay informed
Robinhood provides tools to help you invest. Before buying a stock, coin, or any other investment option, you can access real-time market data, read relevant news articles, and get notified about important events.

Simple and intuitive
Our tools, services, and information are built to be intuitive and accessible for everyone — newcomers and experts alike.

Secure and trusted
Investor security is top-of-mind. Robinhood uses cutting-edge security measures to help protect investor assets and personal information.

Cash Management
Get more flexibility with your brokerage account — invest, spend, and earn interest with a competitive APY.

Disclosures
Cash Management is an added feature to your Robinhood Financial LLC brokerage account. The Annual Percentage Yield (APY) is paid by program banks and might change at any time and at the program banks' discretion. Interest is earned on uninvested cash swept from the brokerage account to the program banks. Neither Robinhood Financial LLC nor any of its affiliates are banks. The debit card is issued by Sutton Bank, member FDIC, pursuant to a license by Mastercard® International, Incorporated.

Securities trading offered through Robinhood Financial LLC, member SIPC and FINRA.

Cryptocurrency trading offered through Robinhood Crypto, LLC. Robinhood Crypto is licensed to engage in virtual currency business activity by the New York State Department of Financial Services and is not a member of FINRA or SIPC. Cryptocurrencies are not stocks and your cryptocurrency investments are not products protected by either the FDIC or SIPC.

All investments involve risk and the past performance of a security, other financial product or cryptocurrency does not guarantee future results or returns. You can always lose money when you invest in securities, cryptocurrencies, or other financial products. Investors should consider their investment objectives and risks carefully before investing.
download
2. acorns 
Acorns is your guide to financial wellness. We'll help you invest, save and spend responsibly for just $1, $2 or $3 per month. No surprise fees, just surprise upgrades. Join over 5 million investors and start investing your spare change for the future. Supported by leading investors, innovators and press like BlackRock, PayPal, Ashton Kutcher and CNBC.
CNBC recommends Acorns as a "simple, low-stress way to start investing.
Invest for your future
• Automatically invest your spare change from everyday purchases
• Learn how to get more from your money with easy-to-understand articles and videos from financial experts
• Add or withdraw your money whenever you need to
• Just answer a few simple questions to get your own investment portfolio built by experts and personalized to fit your goals
"Acorns takes saving to the next level by helping you automatically invest." -Forbes
Spend smarter
• The only checking account with a debit card that saves and invests for you
• No low-balance or overdraft fees and free or fee-reimbursed ATMs nationwide
• A sleek, tungsten metal debit card in signature Acorns green
• Earn up to 10% extra bonus investments from select local restaurants and businesses
"You think you need thousands of dollars to invest...not the case anymore because there's an app called Acorns." -Good Morning America
Earn bonus investments with Found Money
• 350+ top brands that invest in you when you shop
• Earn even more from side gigs with Airbnb, Uber, Lyft and more
"Acorns is my favorite money app, because it makes it simple and cheap to make small investments." -Business Insider
Grow your knowledge
• Learn how to get more from your money with easy-to-understand articles and videos from financial experts
"Acorns. This is a fabulous app." -The Today Show
Security that's strong as oak
• All your information is protected by bank level security, 256-bit encryption and never stored on your devices.
• Acorns Securities, LLC is a member of the Securities Investor Protection Corporation (SIPC). Your investments are protected up to $500,000.
• Acorns Spend is an FDIC-insured checking account all the way to $250,000, plus fraud protection and instant, all-digital card lock
• Continuous fraud monitoring
"Acorns is quickly turning into an oak tree in the financial services space." -TechCrunch
Pricing
Acorns offers simple, subscription pricing at three tiers of $1, $2 or $3 per month until you have $1 million invested.
download
3. stash
Join 3+ million people on Stash, a personal finance and investing app where you can buy stocks and funds with $5, experience banking with benefits, save and budget smarter, and learn as you go.
We offer three subscription plans: Stash Beginner, Stash Growth, and Stash+. Each plan is designed for a range of needs and goals and offers unique ways to save and invest. You can pick the plan that's right for you, with the option to switch as your life changes.
-- Transparent Pricing --
Stash Beginner ($1/mo.)*
• Includes: Personal investment account & banking account access
Stash Growth ($3/mo.)*
• Includes: Everything in Beginner + a retirement account
Stash+ ($9/mo.)*
• Includes: Everything in Growth + 2 investment accounts for kids, metal debit card†, 2x Stock-Back™ rewards‡, & monthly market insights.
Get Your Pay Up to 2 Days Early§
All plans include access to the Stash debit card, which comes with our FDIC-insured banking account. You can get paid up to 2 days early with direct deposit. Plus, no overdraft‖, minimum balance, set-up, or hidden fees.
Earn Stocks & Funds As You Spend
You can use the Stash debit card to earn stocks and funds through our Stock-Back™ rewards program, building a portfolio that reflects where you shop#.
Investing with Just $5
Unlike other apps, Stash lets you buy fractional shares of 200+ stocks, bonds, and ETFs—with no add-on trading commissions*. We offer personal, retirement, and custodial (for children under 18) investing accounts.
Unlimited Education
Stash Learn can help you become a finance whiz. Read investing learning guides, stay up to date on financial news, and take quizzes on saving, budgeting, and investing.
download
4. stockpile
Start investing with as little as $5. Buy fractional shares in 1,000+ name brand stocks and ETFs. No monthly or annual fees. Only 99 cents a trade.
Featured in Consumer Reports, The Wall Street Journal, and CNBC, the Stockpile stock investing app is the easiest, fastest way to learn how to buy stocks and ETFs, including gold and Bitcoin funds. You can buy Apple stock, buy Amazon stock, buy Disney stock or buy Tesla stock. Pay with cash, credit/debit card, or Apple Pay.
START EARLY
Invest $5, $10, $20 or $50 to start. We offer fractional shares so you can trade stocks for just the amount of money you want without having to buy a whole share. This makes every stock trade affordable for you, even the expensive blue chips. The earlier you start, the longer your savings have to grow! The Stockpile stock market trading app is the best way to invest your stash.
INVEST REGULARLY & DIVERSIFY
Invest regularly and build your portfolio over time. Tiny acorns will grow into big trees. And when you buy fractional shares, you don't have to put all your acorns in one basket. You can divide your savings over a few different stocks and ETFs. Of course, you can withdraw your money anytime from the Stockpile savings app.
5. clink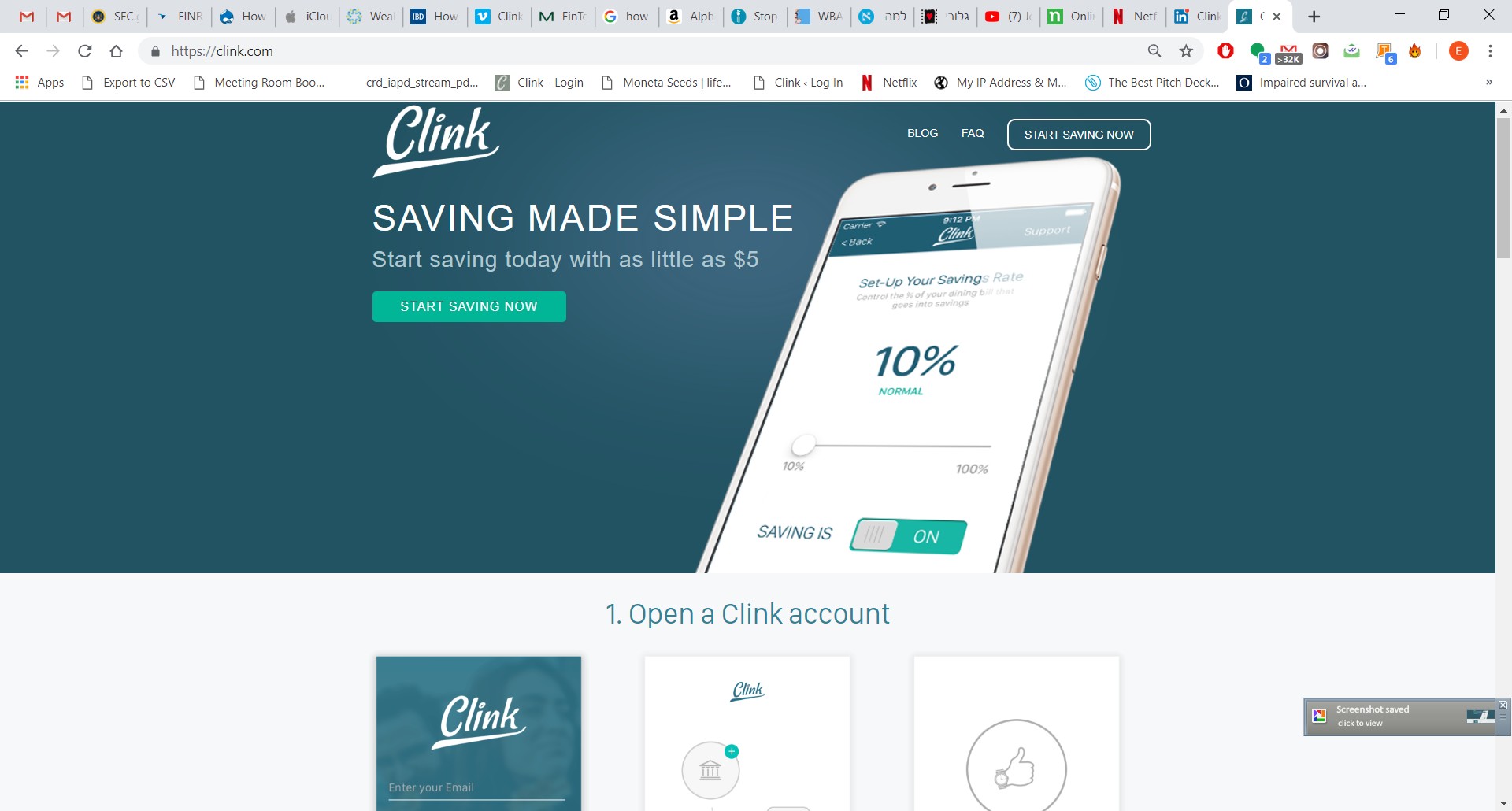 Want to save and invest but could never get around to start? Clink helps you save and invest regularly into your own diversified portfolio. Just pick a goal you want to save for and Clink will recommend a schedule. Start improving your future today. It only takes minutes!
* Save into a diversified portfolio and then some more using our cash back feature.
* Choose a savings goal and track your progress.
* Save regularly on a schedule you are comfortable with (weekly, bi-weekly, monthly).
* Your money is secure and safe. Our broker has SIPC fraud protection of up to $500,000
- Dear reader, I hope you have learned something from the publication, even if a little information, because the human learns every day new information.
I wish you success in your life.

If you have any suggestions we are happy 😁 to write us in the comments.