Sell pictures 🖼️ that you've taken 📸 with your mobile phone 📱 and get money 💵 
🎥🎞️📽️📷📸📹
Amateur photography has always been a popular hobby, but the development of the easy-to-use digital camera has helped this pastime become bigger than ever.  Millions of people own digital cameras and a high percentage of them also use photo editing software and picture sharing websites.  Some of the advanced editing capabilities included with these products were once reserved only for those enthusiasts with deep pockets.  But now anyone who takes the time to study can produce professional quality images on their home computer.  This reality has opened a new market for amateurs who are looking to earn money by doing what they love.
Savvy photographers are starting to notice the high demand across the internet for digital photographs.  Webmasters, small businesses, and even professional agencies are turning to amateur photographers to fill their needs for rates that are much cheaper than professional outfits.  By identifying the key markets and learning a few tricks of the trade, almost anyone can build an additional revenue stream with their digital camera.  The key is to know what the customer wants.
Stock photographs are one of the hottest markets for selling pictures.  Webmasters in particular are always looking for quality stock photos to accent their websites.  This niche is not only growing rapidly, but it offers the opportunity to resell the same picture hundreds of times over.  The key to selling stock images is to focus on a topic and saturate it with hundreds of images.  Nature pictures and business images are some of the best-sellers, but keep in mind that you never know what shot will catch your customer's eye.  Thus, you should shoot many different angles and poses to provide an adequate variety to choose from.  Make sure all of your images are crystal clear and free from background distractions.
Because there appears to be no slowdown in the demand for digital images, the time is right for anyone to start making extra money from their photography hobby.  The only necessities for starting your own operation are access to a decent digital camera, computer, and editing software.  From there it is just a matter of building your inventory.  
Begin by taking pictures of the subjects that interest you.  Think of everything in terms of what the picture could be used for.  Analyze the photos used on websites or magazine ads and try to replicate their quality.  Slowly but surely you build a nice collection of images that you can market online.  As the number of pictures you post increase, so will the potential for sales.  Eventually, you will have built a nice business selling your digital photographs.
And if you're hobby is photography, or you're looking to become a professional photographer,So why not take advantage of these photos to sell them and get some extra money
Here are the best sites to sell on
Scoopshot is the leading platform for crowdsourcing photographers. Hiring a photographer has never been this easy!
News providers, bloggers, brands and companies as well as individuals can request ScoopShot photographers to send them specific photos or videos. To use this content, they pay a fee per photo / video to the photographer. Our system takes care of image rights transfers and monetary transactions, including billing if you are a professional photographer.
How can I earn money with ScoopShot?
When you submit photos and videos they are available for sale in the Scoopshot store. Whenever your photo or video is purchased, you will receive a notification directly to your smartphone and your balance will be updated on your profile.
In addition, all photos and videos uploaded to ScoopShot can be used by online publishers for free when an ad is embedded in the photo by IAN, our in-image advertising network. If your photos or videos are used by online publishers, such as news websites, you'll take a share in the advertising revenue - every time someone looks at your photo / video you make money - which will be added your account balance.
How can I cash out my earnings?
Compensation for sold images is paid to your Scoopshot account, visible in the Scoopshot mobile app. You can transfer money to your bank account by tapping Cash Out. Simply complete the required details and follow the instructions. There's no hurry to cash out earnings, you can accumulate a large sum in your Scoopshot account and cash it all out at once.
Depending on payment method, transfers may take anywhere from a few days to a few weeks. Supported payment methods include bank transfers and PayPal.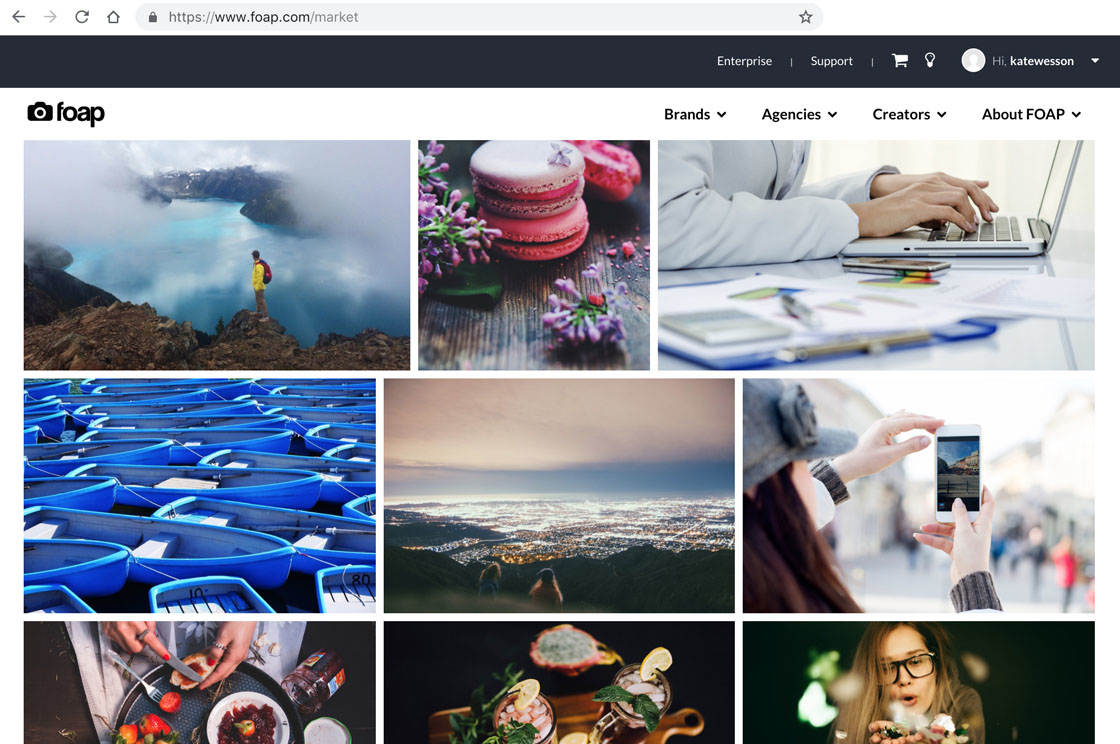 The power of crowdsourcing talent, passion, and branding ideas among 3MM visual content creators is our daily bread here at FOAP. We stimulate the creativity of a global community of photo and videography enthusiasts worldwide to create curated, legally covered, on-brand and engaging visual content for all digital marketing needs. By making possible for creatives to commercialize their snaps, we bring to the industry something new and fresh. Traditional stock photography and videography feet just wrong. It's boring, fake, staged, artificial. Our global community of photo and video-creatives is taking snaps of their everyday lives, of real moments. That's why our visual content is more likable and create more engagement, not least on social media. Since our launch in 2012, we've created thumb-stopping photos and videos for Google, Heineken, Volvo Group, Pernod Ricard, MasterCard, VisitSweden, Sony, Lufthansa, Priceline, VisitEngland and many, many more.
Join to the world of the real visual content marketing!
Simply upload your videos and photos and earn money.
When a brand, agency or just anyone who finds your work outstanding purchases a video or picture from your online Foap portfolio, we share the profit with you 50/50.
Take part in creative video and photo Missions for brands and win hundreds of dollars for just one video or picture!
Submitting a video or picture to one of our Missions is an easy way to make your hobby even more profitable. Simply follow the Mission brief and upload one or multiple videos or pictures that reflect what kind of imagination the brand is after.
Why wait? Foap is a great way to turn your videos and pictures into dollars you can spend on buying better equipment and becoming even a better video and photographer. Join our community and be inspired by the creativity of over 2.9 Million creators.
- Dear reader, I hope you have learned something from the publication, even if a little information, because the human learns every day new information.
I wish you success in your life.

If you have any suggestions we are happy 😁 to write us in the comments.