Write 📝 & Get Paid $100 💵
If you've got a way with words and expertise in a niche, there are plenty of sites that will pay for articles and content you write. Think of the sites you read regularly. What can you contribute to them that would be interesting? Research your niche and then look for ways to pitch articles. Many sites will simply have a submission or contact link in the footer.
Here are the best sites.
1. listverse
We will pay you $100 for your efforts. You don't need to be an expert—you just need to have English equal to that of a native speaker, a sense of humor, and a love for things unusual or interesting.It works like this: You write your list (10 items per list minimum), you send it in, we reply and say "Great—we'll publish it" and send you $100 by PayPal (don't have an account? just make one—it's easy and free); or we reply and say "Sorry—it isn't the sort of thing our readers will love—give it another shot." Just remember, your list should be at least one or two paragraphs per entry.Either way you win—your list will be read by us and reviewed, and if it's amazing it will appear on the front page of Listverse to be read by millions of people a month!
The rules are really pretty simple. As long as your list (and we do mean yours—don't steal other people's stuff) is one or two paragraphs per item you can choose any topic you like. We also need you to link to reputable sources (see Section 7 of our 

author guide

 for more details) so we can verify the facts of what you're saying. Just remember—if it's good enough to publish (by our standards) you get 100 bucks—simple as that.
To help you out with some ideas, the lists that our readers love the most (and the ones we will most likely pay for) are lists that are offbeat and novel—lists that are looking at something normal in an unexpected way (ways college makes you dumb, for example), unsolved mysteries, hidden knowledge (things most people don't know), misconceptions, and just really astonishing general knowledge about anything—science, for example. What we don't want to see are lists on sports, self-help, personal stories, or gaming. We don't publish opinion lists.
Oh—and there's one more thing: If you have a blog, a Twitter account, or a book you want to promote, mention it in the submissions form and we will stick it at the bottom of your  list.
When you send in your list you don't need to include images or videos. Our team of editors does a great job selecting the best images to complement your writing. However, if you are desperate to include some of your own supporting imagery or videos, just include a link to the YouTube page or a URL of the picture you like with each item on your list. We don't promise we'll use them, but we'll definitely consider them.Please note that we publish original articles. We do not post infographics, slideshows, or "re-blogged" content.Ready to start? Just head over to the 

submissions form

 and get writing!
2. funds for writers
Freelance Submission Process for FundsforWriters
Articles should fall between 500 and 600 words. Each FundsforWriters newsletter lists only one article – short and sweet and to the point. So make each word count. MAKE YOUR WRITING TIGHT. Watch the passive voice. Give it a beginning, middle, and ending. A list of links is not an article.

.
the Rules
We do NOT want stories about…
how to write

how to develop plot, characters or settings

topics that cannot relate in some manner to making more money as a writer

general or theoretical anything without solid examples and resources
ideas on breaking into a particular market (but try to avoid one vendor/publication)

pointers on winning contests

unique ways to develop an income with words

success stories with ideas for others

profitable business practices related to writing

seasonal material affiliated with particular markets

grant success stories

nonprofit partnerships

unique markets

unusual writing income ideas

anything to help a writer make a dollar penning words

a dash of humor, if possible; a positive note and a happy ending
List markets with links, not just by name.

Our readers like to walk away with tools to use.

DO NOT USE WORDS IN ALL CAPS.

Do not query in smartphone text-ese.

Use correct grammar in your query/pitch.

Don't ask if you can write in any language other than English.

If your English is weak or grammar poor in the query, bio, article, or website, you are rejected.

Your bio/introduction is as important as your submission.

We prefer writers who have an online presence.

Exceeding word count is the easiest way to get rejected.

Do not tell us you are a writer and ask for ideas. Half the reason we hire a writer is for their originality.

WE CHECK FOR PLAGIARISM. Do not even try to copy someone else's work or you will be banned from the newsletter and never considered for other work with FFW.
Query or Manuscript:
We accept either one, but to save you time and trouble, you might want to query unless you are pretty sure about the topic after reading FundsforWriters for a long while!
Payment:
Via PayPal – $50 for unpublished original articles; $15 for reprints.

Via check – We rarely pay via check and never outside the US.

Via any other way – no
Please indicate which you are submitting. If a reprint, list where and when the piece was published. Payment is made when article is accepted, usually within a week of submission. Please do not email and ask when we will get to your piece.
FFW purchases one time electronic rights and archival rights in the newsletters' archives. After publication in the newsletter, you may resell your article after 30 days. FFW purchases articles for use often three to six months downstream, so pretty please do not ask when it will be published as the editor retains the right to move articles around due to unforeseen circumstances.
Final Manuscript:
When you submit the manuscript, include:
word count

title

piece

a brief bio at the end to include your website/blog

your PayPal address

no checks or wires to foreign countries

omitting any of the above can result in rejection.
Email:
We prefer all submission by email and WITHOUT attachments unless you are given the nod to send an attachment. Submit your manuscript to 

[email protected]
3. international living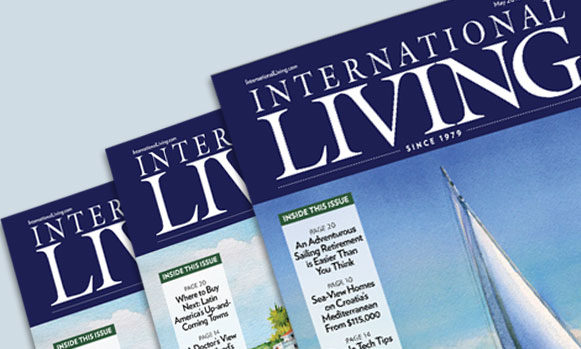 International Living is Looking for Writers…
Here at International Living, we believe in one simple idea…in the right places overseas, you can live better, for less.
A healthier, safer, freer, more affordable retirement can be yours in one of the many retirement havens around the world.
We live in a world full of opportunities…for fun…pleasure…financial security and profits…romantic discoveries…and adventure. It's a world full of things you can do to make your life more exciting—and more profitable—and we'd like you to write about them for us.
Our daily e-letter brings stories from expats living their dream lives around the world.
Learn more about Daily Postcards and its writers guidelines here 
Our monthly Magazine  offers readers a depth of information about global travel, living, retiring, and investing overseas.
Learn more about International Living Magazine and its writers guidelines here 
Our e-letter explores opportunities to earn from anywhere in the world.
Learn more about Fund Your Life Daily and The Savvy Retiree and its writers guidelines here 
Yes, you. We're always looking for new authors. If you've got an idea that will challenge our readers and move our industry forward, we want to hear about it. But you don't need to wait for an idea that will redefine web design. Just aim to bring readers a fresh perspective on a topic that's keeping you up at night.
We'll be honest, though: writing for ALA takes work. We want your article to be at its best, and we'll push you to get there. Once accepted, you'll get extensive feedback from our team, and you'll work closely with an editor on revisions.
It's also rewarding. Thousands of your peers (and potential employers, clients, or publishers) will read your work, and you'll also learn a lot in the process—about communicating your ideas, about writing, and even about the topic you thought you already knew so well when you started.
What we're looking for
You may submit a rough draft, a partial draft, or a short pitch (a paragraph or two summarizing your argument and why it matters to our readers) paired with an outline. The more complete your submission is, the better feedback we can give you. Keep in mind that we only accept original content—we do not publish anything that's been published elsewhere (including on your blog).
Please don't send us press releases or sales pitches. They make us feel sad inside.
Before you submit, look at our style guide and recent articles for insight into structuring and formatting your piece, and make sure your submission:
Has a thesis and offers a clear argument—not just a list of tips and tricks.
Has a voice. Be bold, interesting, and human.
Is written for an audience of designers, developers, content strategists, information architects, or similar.
Is supported with convincing arguments, not just opinions. Fact-check, and cite sources where appropriate.
Follows our style guide.
What we publish
We publish articles of anywhere between 600–2,500 words, depending on subject complexity. 1,500 words is about average. Articles often run with a custom illustration. Articles may be casual in tone and content—great for less-intensive tutorials and posts—or rigorously structured and edited. All should be well-considered explorations of current and cutting-edge topics in the web industry.
How to submit (and what happens next)
Email us your submission. We prefer submissions as Google documentsso that editors can easily provide feedback and guidance directly within your draft. You may also send us a plaintext file, a Markdown file, or a link to an HTML document. (Please do not send a ZIP file of assets unless requested by an editor.)
Here's what happens after you hit Send:
An editor will review your submission and determine whether it's a potential fit. If so, the whole team will review and discuss it. This happens once a week.
The editor will collect the team's feedback and get back to you with notes. (We rarely accept an article the first time around, but we'll tell you if we're interested.)
Once you've addressed our comments, send your revised draft back. The team will discuss it again and let you know if we want to accept it.
If we accept your article, an editor will work closely with you on things like organization, argumentation, and style.
We'll schedule you for publication as soon as revisions are complete. We can't give you a specific publication date until the article is almost ready to go live.
- Dear reader, I hope you have learned something from the publication, even if a little information, because the human learns every day new information.
I wish you success in your life
If you have any suggestions we are happy 😁 to write us in the comments.